Dongying Guide Home | ACP Home
Bars, Pubs, and Clubs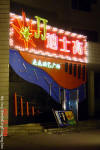 JJ Disco / JJ迪士高 / JJ Di Shi Gao (on Ji Nan Lu, near the intersection with Xi Si Lu)
You could say that JJ Disco is the only place to go dancing in Dongying ... because it is. JJ Disco has a bouncy dance floor, which is novel if not just hard on the knees. There's a 15 RMB cover charge, but it's the drinks that may break your wallet. Still, there are plenty of bottled beers for 15 or 20. The periodic floor shows (boy band wannabes, magic shows, and audience games) may be a little annoying, but the erotic pole dancers will make up for it.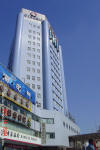 Dynamic / 大明大厦 / Da Ming Da Sha (on Ji Nan Lu)
The third floor bar here is absolutely the best in town and the favorite haunt of local expats. It has a pool table, foosball table, air hockey table, and even a PS2 hooked up to a big screen TV, all for free. You'll undoubtedly meet JJ (no relation to JJ Disco), the sociable manager who speaks fluent English. And here you can rub elbows with Texans working for oil companies and English teachers from around the globe. On occasion (usually after a good number of drinks) dancing breaks out here.

Casablanca / 卡蓰布lan卡 / Ka Xi Bu Lan Ka (on Bei Yi Lu a.k.a. Qingdao Lu)
It's got foosball. Need I say more? And they're more than happy to play whatever CDs you hand them. Most often you'll find you're the only one in the bar though, so be sure to look up the expat community or bring some other friends with you before you go.

Simple / 森朴咖啡屋 / Sen Po Ka Fei Wu (on Bei Yi Lu a.k.a. Qingdao Lu, across from Ming Tien Coffee Language)
Half coffee house half bar, this is a quiet, uh, simple place. Beware, many of the wide range of alcohols on display are not actually for sale. Also, only a small part of the menu is in English. Still, this is a good alternative to Ming Tien across the street, especially if some of your friends are craving coffee while others are craving gin.
Bei Yi Lu (Qingdao Lu) 北一路 (青岛路)
The section between Xi Si Lu and Xi San Lu is Dongying's primary bar and restaurant street. There's at least a dozen oddly named bars here that otherwise don't have much to distinguish themselves from each other. So far I prefer Casablanca, but others like the Old Captain Bar (with ship's prow protruding from it) or the Oil Workers Bar can be fun too. I've also heard good things about the City Freemans Bar on weekends. However, unless it's a Friday or Saturday night, be prepared to find most of these bars empty. This street is also host to a slew of massage houses ranging from classy to trashy. See the Other Things section for a review of the classier places ... because I'll testify under oath that I don't know anything about the trashy ones.