Dongying Guide Home | ACP Home
Health ...
One of the most frightening thoughts for expats is requiring serious medical care while abroad. Fortunately Dongying is a large enough city to have clean and modern medical facilities. For less serious health issues, pharmacies and supermarkets around the city carry "western style" medicine though you will not likely recognize any brand names. If you know and love a brand like NyQuil or Robotusin then import it. Otherwise you'll need a Chinese friend or coworker to help explain what medicine to buy. Dongying also has a few dental clinics that live up to western standards.

Shengli Oilfield Central Hospital 胜利油田中心医院 Sheng Li You Tian Zhong Xin Yi Yuan
This is the biggest and best hospital in Dongying. It is always recommended that you have a translator with you, but they do have experience accommodating foreigners. This hospital is located on Jinan Lu between Xi San Lu and Xi Er Lu.

Sheng Jie Dental Clinic 圣洁牙齿美容中心 Sheng Jie Ya Chi Mei Rong Zhong Xin
This inconspicuous dental clinic on Bei Yi Lu (Qingdao Lu) is a branch of a larger company based in Qingdao. The staff is well trained and nearly all from Qingdao. You will need a translator to explain what is discomforting you and for them to explain the treatment. However, there isn't much need for words when they're actually working on you. Regarding the cost, a teacher at my school had 2 visits (the first to clean a large cavity and put in a temporary filling, the second to remove the temporary filling and put in a permanent one) for a total of 80 RMB. You can reach them at 0546-8703339 or 8252729.
... and Exercise
I definitely don't recommend jogging to counteract the effects of oily Chinese food. With uneven sidewalks, gawking locals, questionable air quality, and traffic that doesn't consider the sidewalk off limits, jogging can be a rather unhealthy practice in Dongying. Fortunately there are some alternatives for those looking to stay in shape.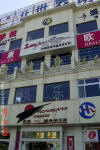 Nongkang Impulse Total Fitness Club 侬康健身俱乐部 (Nong Kang Jian Shen Ju Le Bu)
This is a decent gym on Jinan Lu not far from Silver Plaza. They have a good selection of machines and equipment. They also offer free classes in everything from cycling to Latin-dancing-style aerobics. From 2pm to 10pm, they have trainers roaming the exercise room to give pointers or help spot you on weights. The gym's hours are from 8am to 10pm and is busiest in the evenings. A 1-month membership costs 300 RMB. A 6-month card costs 1,280 RMB. A 1-year membership costs 1,800 RMB.
(Taxi Directions) (Contact Info)
Shengli Hotel 胜利宾馆 (Sheng Li Bin Guan)
Pictured here is the building housing the Olympic-sized, heated swimming pool located within the otherwise aged hotel complex of the Shengli Hotel. The fee is 30 RMB per hour, but they will let you swim as long as you want on your 30 RMB. You can rent swimwear for another 30 RMB. The Shengli Hotel is a very short walk north of the Dongsheng Mansions on Xi Si Lu.
Petroleum University Sports Track 石油大学体育场 (Shi You Da Xue Ti Yu Chang)
I haven't actually gone here myself, but from what I understand there is a running track on campus frequented by students and sporty expat teachers. If treadmills and health club fees are not for you, this could be a good alternative.