Dongying Guide Home | ACP Home
Shopping
Wherever you are located in Dongying, there is sure to be a tiny grocery or convenient store tucked into a corner or just outside the gate of your apartment complex. There are also several large Wal-Mart style department stores spread throughout town, each one about as good as the next. The places listed below are shopping areas that are worth making a trip to for those hard-to-find goods.
Note 1: Fruits and vegetables are much more expensive in supermarkets than from street vendors or outdoor stalls. They are also much more convenient because purchasing them is a language-less, negotiation-less process. Produce from outside vendors is harmless as long as you thoroughly wash it and/or peel it before cooking it. For those willing to brave bargaining with outdoor vendors, I recommend first pricing fruits and vegetables in a supermarket to get a better sense of a proper price.
Note 2: Bedding can be bought much more cheaply in supermarkets than specialty stores. However, the quality and selection of patterns and colors are both very poor. Several teachers at our school have splurged on a brand called Aussino and have been very pleased. An Aussino outlet can be found on Bei Yi Lu (Qingdao Lu) near the intersection with Xi Si Lu.

Silver Plaza 银座 Yin Zuo
The grocery store within Silver Plaza has a number of foods and household products that (so far) can't be found anywhere else in Dongying. (mouthwash, floss (for 80 RMB), and a wider selection of 100% juices) The department store store on the upper floors is also very comprehensive though a little overpriced. Silver Plaza is also home to Royal Pizza and one of the KFCs (see the Restaurants section) and is located on the corner of Xi Er Lu and Jinan Lu diagonally across from the Xin Yue Hotel.

Shengda Central Supermarket 胜大中心超市 Sheng Da Zhong Xin Chao Shi
This supermarket has numerous smaller branches around the city, but this is the gigantic center located on the corner of Bei Yi Lu (Qingdao Lu) and Xi Er Lu. This is an especially good place to go for getting cheaper household goods like bedding.
Huang He Kou Furniture Plaza 黄河口家居广场 Huang He Kou Jia Ju Guang Chang
Oddly there are scores of furniture warehouses in Dongying. This particular one on the southern end of Xi Er Lu has a giant selection of decent quality goods for relatively cheap prices. A taxi to here from the area of the Dynamic Hotel will push the limits of the 5 RMB boundary. Be prepared to negotiate with the driver and then the furniture vendors.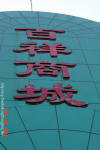 Bai Xiang Computer Warehouse 百祥商城 Bai Xiang Shang Cheng
Shopping here may require some translation and negotiation skills, but it's a great place to go for cheap computer parts and accessories. They also have boxes and boxes of knock-off games. Most taxi drivers will recognize the name; Bai Xiang is located on Jinan Lu next to the defunct Friendship Plaza 友谊广场.

Yang Guang Computer Warehouse 阳光电脑商城 Yang Guang Dian Nao Shang Cheng
This place is on the other side of Friendship Plaza and in my opinion isn't as good as Bai Xiang. Still, if you can't find what you're looking for at Bai Xiang you might as well try here.

Friendship Plaza 友谊广场 You Yi Guang Chang
I only put this in here because otherwise you would be left wondering what this giant building on Jinan Lu actually is. Well, right now it's nothing. It was once a department store that now only holds a discount cell phone market on the first floor and a franchise of California Beef Noodles. Otherwise you can give this place a miss.



Shang He Lu Free Night Market 商河路自由夜市 Shang He Lu Zi You Ye Shi
This is actually a day and night market, the entrance of which is on the west side of the massive Shengli Square (胜利广场). The expats who know about it refer to it affectionately as the Dirt Market. Under its roof is one of the most random collection of goods and services, including: potted plants, birds, aquariums, roller-skates rental, video arcades (gambling), prostitutes, a veterinary clinic, spices sold in bulk, herbal medicines, Mao memorabilia, a pool hall, and a photo studio with costumes. If it doesn't have anything you want then it's at least worth a browse.

Hardware Street (Shanghe Lu) 商河路
Ok, so I'm the one who dubbed this hardware street. It's a thin street that runs between Xi San Lu and Xi Er Lu, between and parallel to Jinan Lu and Bei Yi Lu (Qingdao Lu). Besides tools of just about every kind, it sells a wide variety of construction materials and fixtures. You will definitely need a translator and patience to sort through the endless rows of vendors.