Dongying Guide Home | ACP Home
Restaurants and Hotels
Dongying has a great selection of Chinese cuisine from around the country and a stunted selection of western and other foreign foods. You could easily fill up for under 10 RMB a meal, and you could just as easily spend a few hundred RMB in the city's nicer restaurants. This page is mostly dedicated to the non-Chinese cuisine available in Dongying, which is a bit harder to find than Chinese food.
If you are interested in finding some "real" Chinese food, then, wherever you happen to find yourself in the city, close your eyes and stretch your arms out to either side. Spin yourself around and you will very quickly collide with a cart selling popcorn, puffed rice, peanut brittle, fried stinky tofu, roasted corn or chestnuts, melon slices on a stick, dried fish, pickled vegetables, chicken parts, and an assortment of unidentified, theoretically edible products. If you're too squeamish for street food, then walk in a straight line in a direction of your choice until you hit a wall. That wall most likely forms one side of a Chinese restaurant. But just in case these methods don't help you find some decent Chinese food, I've included some of my favorite places below.
KEY
English Name

Chinese Name

Pinyin Name

Address

Link to Printable Directions for a Taxi Driver

Description

Photos and/or Translated Menu
Dynamic Hotel

大明大厦

da ming da sha

Ji Nan Lu

There are several restaurants within this conglomerate, including a classy Chinese restaurant and a rather pricey Korean place. The Sun Flower Cafe (SFC) on the second floor offers decent replicas of some favorite western dishes for 30 to 60 RMB. They make a great spaghetti bolognaise. Their ground chicken burger is oddly more satisfying as a burger than their breakfast-sausage-esque hamburger. They also have a good selection of pizzas for 30 RMB that will grow on you after a while.
Xin Yue Hotel

新悦大酒店

xin yue da jiu dian

Corner of Ji Nan Lu and Xi Er Lu

The restaurant on the second floor has decent western food though itís a little pricier than Dynamic. Also there are a few fancier dishes on this menu than Dynamicís. However the service is great, maybe even a little too attentive sometimes. After dinner here, the manager interviewed me for about 30 minutes on how to improve their menu. Like Dynamic, Xin Yue also has a Chinese restaurant.
Dong Sheng Mansions

东胜大厦

dong sheng da sha

Xi Si Lu, near intersection with Jinan Lu

This is the best hotel in town and, to my knowledge, the only 5-star hotel in Dongying. Finding it shouldnít be a problem because itís also the tallest building in the city at 29 floors. Taxi directions are hardly necessary as most taxi drivers will assume this is where you want to go anyway. This hotel has a very pricey seafood restaurant on the second floor, but Dongsheng is best known among the more impoverished expats for its buffet breakfasts and dinners. Breakfast costs 40 RMB and dinner costs 60 RMB. They probably have the best pizza recipe in town.
Ming Tien Coffee Language

名典语茶

ming dian yu cha

Bei Yi Lu near the intersection with Xi Si Lu

Ming Tien has very comfortable surroundings if not hot-n-cold good service. It also has, hands down, the worst selection of music in the city. But you may just be able to put up with covers of ďIím all out of loveĒ for the coffee, fried ice cream, French toast, and Australian steaks. Itís pricey (20 to 40 RMB) and the portions on some meals wonít even take the edge off your hunger. It does its best work as a dinner and/or dessert place.
UBC Cafe

上岛咖啡西餐厅

shang dao ka fei

Corner of Bei Yi Lu and Xi Si Lu, in the Chang Long Hotel building

UBC, like Ming Tien, is a Taiwanese coffee house chain. It has Ming Tienís atmosphere with much more tolerable music (often live piano) and fairly good coffee. However, the only tolerable western food here is its selection of steaks. As at Ming Tien, steaks go for 60 to 100 RMB.
Yuan Yuan Yuan

圆缘园

yuan yuan yuan

Wu Tai Shan Lu, not far from the intersection with Zi Bo Lu

YYY offers the same sort of mix of western and Chinese foods a la Ming Tien or UBC Cafe, but it is best known for its swings and selection of teas. It also has a modest selection of ice cream desserts and dessert drinks. Itís a great place to head just after a meal at Tu Da Li.
Royal Pizza

皇室比萨

huang shi bi sa

Yin Zuo (Silver Plaza)

While this place has a long ways to go to become a real pizza place, itíll do to satisfy a pizza craving. It also has a fair bit of other things on the menu, including some of the only curry available in town. Pizzas cost from 30 RMB (personal) to 50 RMB (slightly bigger). Other dishes, like the curry, cost around 15 or 20 RMB.

No Photos Yet
KFC

肯德基

ken de ji

1) Corner of Xi Si Lu and Ji Nan Lu; 2) Silver Plaza

Don't be ashamed to take a KFC break every now and then. For around 20 RMB you can have a convenient western fix. Also, there are usually several items on the menu that are distinctly suited to Chinese tastes, making for an insightful (if not justifiable) visit to the colonelís.

No Photos Necessary
Tu Da Li

土大力

tu da li

Wu Tai Shan Lu, not far from the intersection with Zi Bo Lu

This Korean restaurant has a mostly-good menu without being too pricey. The ďstone bowl riceĒ usually hits the spot and only costs 15 RMB. While this only counts as ďwesternĒ food to Chinese people, itís a great alternative to the other food available in Dongying.
The Grasslands

心舒快餐美食精迄

Xin Shu Kuai Can Mei Shi Jing Qi

First restaurant inside the alley to the left of the Hai Tong Da Sha

There isnít much to distinguish this diner-like place from the myriad others in Dongying except that it does a better-than-average job with its dishes. While you may never go in search of the Grasslands, this menu will help you navigate 90% of the dishes at all those other places in town. By the way, the staff here are possibly the friendliest in China.
East Sea

东海鲜

dong hai xian

Zibo Lu, near Dongying Qu Zheng Fu

The entrance of this excellent seafood restaurant looks more like an aquarium than a restaurant. This is because East Sea follows the custom of most fine restaurants in Dongying by having a visual menu. A waitress with a PDA will follow you around as you point at what you want, noting how you want it cooked or making suggestions. This is a meal to be enjoyed with a group of friends and would likely cost upwards of 20 or 30 RMB per person.

No Photos Yet
Great Dumplings City

浩然饺子城

Hao Ran Jiao Zi Cheng

Xi Er Lu, #198

There are plenty of dumpling restaurants in Dongying, but this is one of the better ones. Their lamb and carrot dumplings (羊肉水饺) are excellent. Other great choices are pork and cabbage dumplings (白菜肉水饺) and beef dumplings (牛肉水饺). Dumplings are sold in units of liang, the smallest batch being 2 liang. Two liang is probably enough of any dumpling dish if you would like to order other dishes. Four people could get stuffed on 3 kinds of dumplings of 2 liang each.

No Photos Yet
Hometown Barbecue

老根烧烤

lao gen shao kao

Zi bo lu, just east of the China Life Insurance building

You can find shao kao restaurants on just about every street corner after 6pm. Some of the mobile kitchen arrangements can be quite expansive too. This particular barbecue has its own permanent restaurant and offers outside seating when the weather can afford it. It also has the best roasted garlic in Dongying, and its other skewered goods are also all well done. If you donít end up finding your way to this hole-in-the-wall, the menu below should serve you well at most other street-side barbecues in town.

Menu
Honorable Mentions:

California Beef Noodles
There are 3 CBN franchises in Dongying and hundreds more around China. Their 7-RMB bowl of beef noodles and 6-RMB bowl of chicken noodles aren't half bad. They also sell set meals for 10 RMB comprised of a main meat dish, a side vegetable, a scoop of steamed rice, and a very watery soup. Look for CBN 1) across the street from the Shengda Central Supermarket (see Shopping), 2) on the first floor of the otherwise abandoned Friendship Plaza (友谊广场 you yi guang chang), and hidden in an alley with several other cheap restaurants just east of the Guo Mei (国美) home appliance department store on Jinan Lu.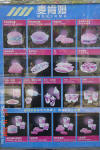 Mai Ken Mu 麦肯姆 One of China's many knock-off McDonalds
I won't actually eat here because I fear it would validate this place with the locals. Places like Mai Ken Mu make their money off unsuspecting yokels who have never actually had western fast food much less been to a real McDonalds. In truth, they aren't missing much. But for expats craving a convenient burger, this place is just a cruel joke. Besides having 4 golden arches for its logo, the name is also somewhat similar to McDonald's (麦肯姆 mai ken mu VS 麦当劳 mai dang lao). Mai Ken Mu is across the street from the Shengda Central Supermarket about a storefront away from the California Beef Noodles franchise.